NBME Earns Great Place to Work Certification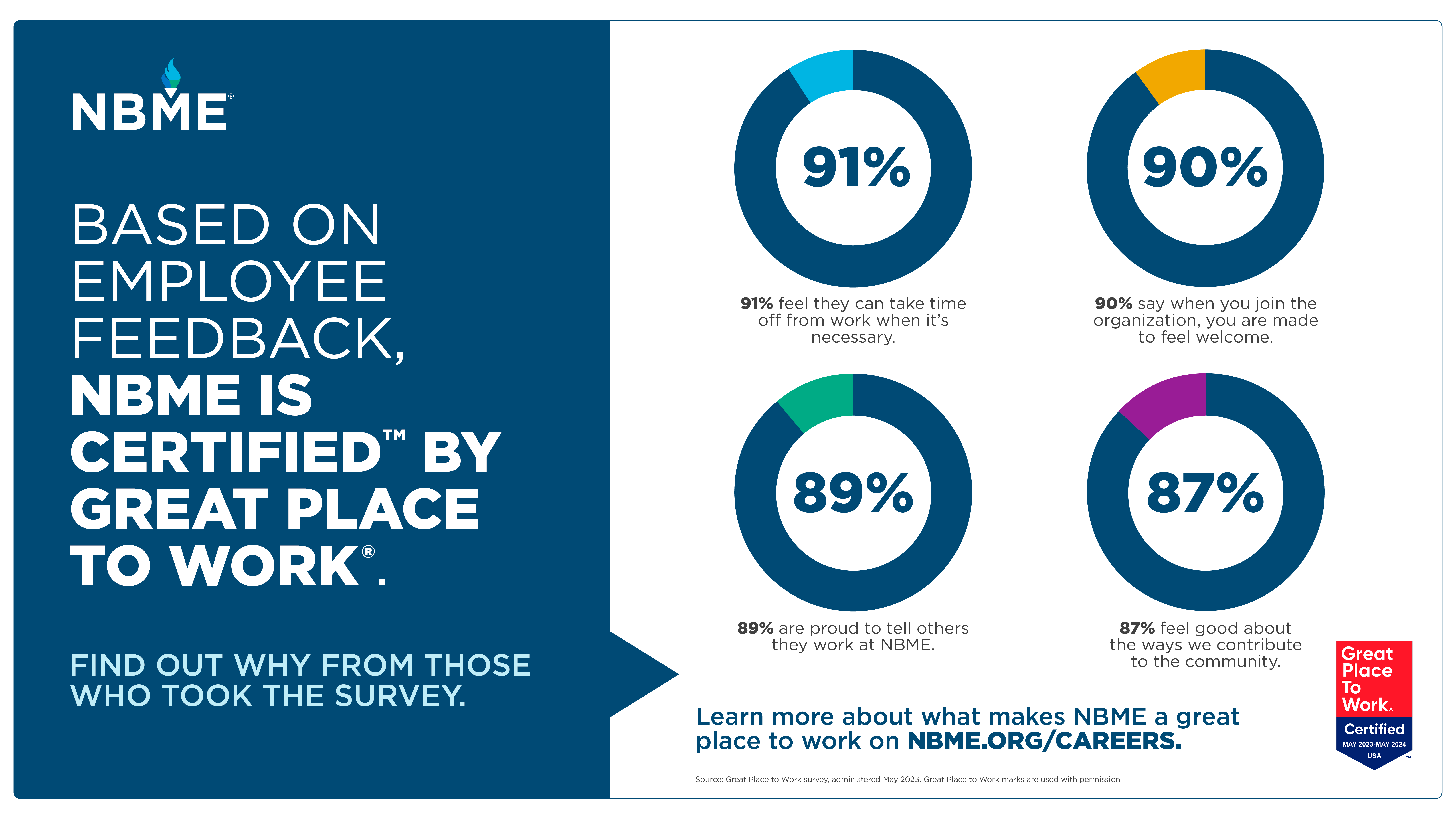 NBME, a mission-driven organization that specializes in the creation of high-quality assessments and learning tools for health professionals, announces its designation as a 2023-2024 Great Place to Work®. Great Place to Work states that it is the global authority on workplace culture and employee experience. CertificationTM reflects responses to a recent employee engagement survey conducted by Great Place to Work. This year, 78% of staff surveyed said that NBME is a great place to work, compared to 57% of employees at a typical U.S.-based company.
"Our Great Place to Work Certification is a testament to the hard work and dedication of each of our employees," Dr. Peter J. Katsufrakis, NBME President and CEO, said. "I sincerely thank them for their commitment to supporting the development of physicians and other health professionals who take on the noble task of protecting the health of the public in fulfillment of our mission. This commitment drives our work, allowing us to support and make important contributions to the medical education, assessment, and Philadelphia communities."
Certification is a two-step process that includes a culture brief and Great Place to Work's signature Trust IndexTM Survey, which considers 60 elements of the overall job experience. In May 2023, more than 65% of NBME employees completed the survey covering five key areas: respect, fairness, pride, camaraderie, and credibility. A few highlights from the survey include:
91% of employees say they are able to take time off from work when they think it's necessary.

90% feel they are made to feel welcome when joining NBME.

89% are proud to tell others that they work at NBME.

87% feel good about the ways NBME contributes to the community.
The survey project was led by a diverse, cross-departmental team of employees under the guidance of Janelle Endres, Vice President, Human Resources.
"NBME has a unique culture and a great deal of employee pride," Endres said. "The results of this survey validate much of what we thought we knew – our people believe in and connect with our mission, care deeply about their colleagues, and appreciate our fantastic benefits. The results also help us focus on areas where we can collectively strive to do even better. Culture building is ongoing work!"
NBME is committed to listening and learning from employees to develop the best working experience possible. NBME actively recruits and retains top talent who strive to fulfill our commitment to the medical education and assessment communities, as well as our local Philadelphia community. We look forward to continuing to work with employees to help ensure that NBME meets their needs and remains a great place to work for many years to come.
Learn more about NBME's Great Place to Work results at GreatPlaceToWork.com.
Back to News Archive